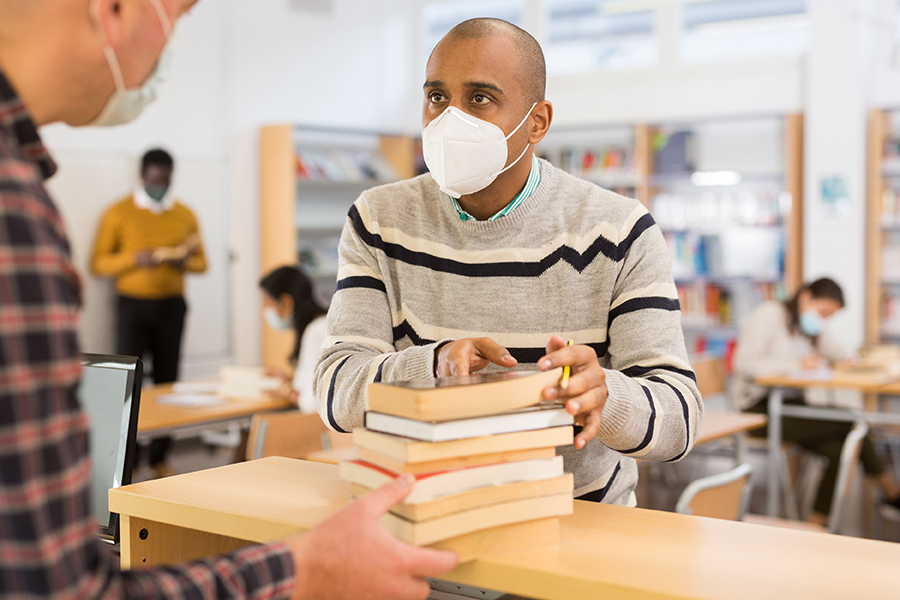 Grab & Go Library Service to Launch April 26
Beginning Monday, April 26 and Tuesday, April 27, Contra Costa County Libraries will open their doors to the public for Grab & Go service. The libraries will be open with limited occupancy and offer select services. Patrons will be asked to limit their time in the library to no more than one hour and to abide by all safety protocols including social distancing and mask requirements.
• Computer use for no more than one hour
• Reference and account help
For the safety of the public and library staff the following will not be available to customers inside the libraries:
• Chairs and tables for reading and studying
• In-person events
• Front Door Service (except at the Crockett and Rodeo Libraries)
The following safety protocols will be in place:
• Customers over the age of two are required to wear a mask or face covering
• Social distancing reminders will be placed throughout the library
• Building capacity will be adjusted according to the color tier the County is in as part of the State's Blueprint for a Safer Economy
Orange Tier - 100%
Red Tier - 50%
Purple Tier - 25%
• Hand sanitizer will be available at entrances
• Sanitizing wipes available for customers to sanitize shared surfaces
• Seating only available at selected public computers to encourage social distancing
• Toys and high touch play items are removed
• Library staff eligible for vaccinations as of Friday, March 12
Grab & Go - FAQs
Beginning Monday, April 26 and Tuesday, April 27 most library locations will reopen for Grab & Go service. To help maintain capacity limits set to protect the health and safety of the public, all visits inside the library should be kept under one (1) hour. Visit ccclib.org/libraries-reopen for complete details about available services, hours, locations and safety protocols.

Due to size limitations, Front Door Service will continue at Crockett and Rodeo. It will not be available at other libraries.

A face covering must be worn by patrons at all times during their library visit, covering both the mouth and nose. In following the California Department of Public Health guidelines, face coverings must be worn by anyone over the age of 2 years old. Acceptable face coverings include those outlined by the Contra Costa County Health Order.

Most libraries will be open to the public on Monday, April 26 or Tuesday, April 27.

Due to size limitations, Front Door Service will continue at Crockett and Rodeo.

The Antioch Library will open to the public on Tuesday, June 1.

The Pinole Library and Ygnacio Valley Library are currently being used as COVID-19 testing sites. They are scheduled to reopen later this year. No specific date has been set at either location.

There are no exceptions to the mask policy. If you don't have a mask, you may request one from library staff or return at another time with your own mask.
Safety enhancements include:
• Plexiglass installation at service desks
• Enhanced cleaning of "high-touch" surfaces such as doorknobs, door push bars, elevator buttons
• Increases to air intake with HVAC systems
Crockett, Rodeo, Pinole and Ygnacio Valley Libraries
Due to size limitations the Crockett and Rodeo libraries will continue to offer Front Door Service only.
The Pinole and Ygnacio Valley libraries are being used as COVID-19 testing sites until further notice. All other libraries will operate at regularly scheduled hours.