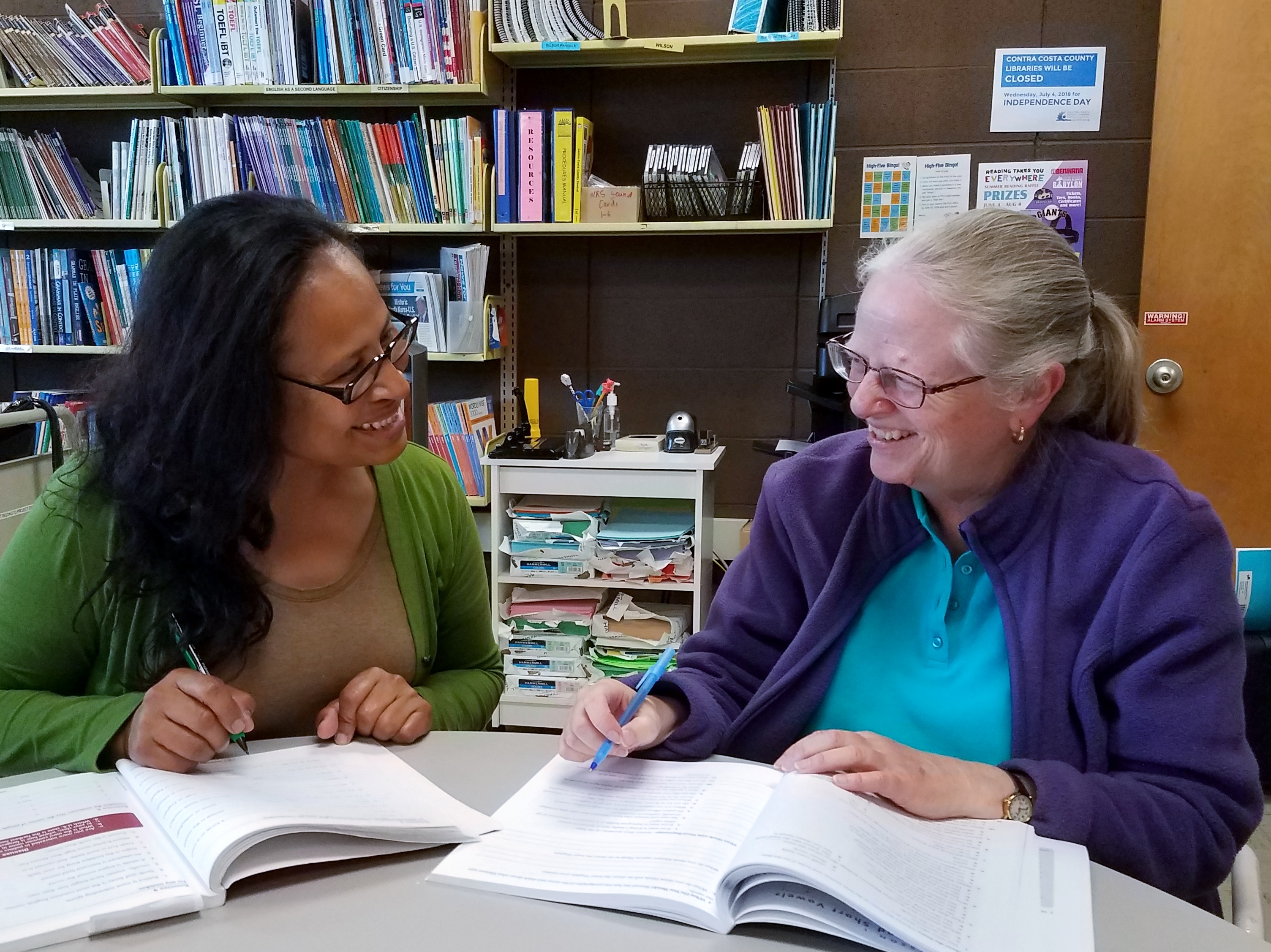 The Library's Adult Literacy Program
Project Second Chance (PSC) trains and supports volunteer tutors to deliver basic literacy instruction to people who read or write below the 6th grade level.
Tutoring is:
free and confidential
one-on-one
2x/week, 90 minutes
by trained volunteers
according to personal schedules
in a public place, usually the local library
PSC is offering remote tutoring opportunities during the COVID-19 pandemic and is currently accepting new students.
If you know adults who need help with basic reading, writing, or spelling, please encourage them to call one of the PSC offices or their local library.
Call (925) 691-3960 or email psc@library.cccounty.us to be a student or to volunteer.
Facebook 
Instagram @psccontracosta
PSC is currently conducting service by appointment. Please call your local PSC office for more information.
Concord
(Non-Library Location)
2151 Salvio St., Ste. 299
(925) 691-3960

Mon. - Fri. | 9 a.m. - 5 p.m.
Antioch
501 W. 18th St.
(925) 754-8317
Wed. - Thu. | 10 a.m. - 6 p.m.
Brentwood
104 Oak St.
(925) 516-5285
Tues. | 12 - 8 p.m.
Fri. | 9 a.m. - 5 p.m.
Hercules
109 Civic Dr.
(510) 307-9937
PSC staff available by appointment
Tues. - Thurs.
San Pablo
13751 San Pablo Ave.
(510) 307-9937
Mon | 12 - 8 p.m.
Tues. - Thur. | 10 a.m. - 6 p.m.
Who are PSC Students?
PSC students are:
16 years of age or older
out of high school
reading or writing below a 6th grade level
able to speak English well enough to speak on the phone and in person
motivated to learn to read, write and spell better
Look and listen:
Kristi (3-minute video)
Shawn, Paula and Cricket (1-minute video)
Six PSC students (audio)
Gladys (essay)
Gladys (KGO radio interview) 
Oscar and Lora (StoryCorps conversation)
In Our Words, Volume 6 (student writings)
In Our Words, Volume 7 (student writings)
In Our Words, Volume 8 (student writings)
About one third of PSC students were born and educated in the United States but never learned to read and write at the level they wish – often due to a learning disability such as dyslexia. Others are non-native English speakers who can speak English but wish to improve their basic literacy skills.
Adults join PSC to learn skills needed for a variety of practical goals: fill out a job application, read bills, share a book with a child, read medicine labels, vote, and perform other everyday tasks that proficient readers take for granted. PSC students are real people, many of whom have grown up feeling inadequate and insecure. Their decision to face their fears to learn literacy skills often requires courage and commitment. With increased confidence and self-esteem, they participate more fully in their children's education, look for new and better jobs, and move beyond the limits imposed by low literacy skills.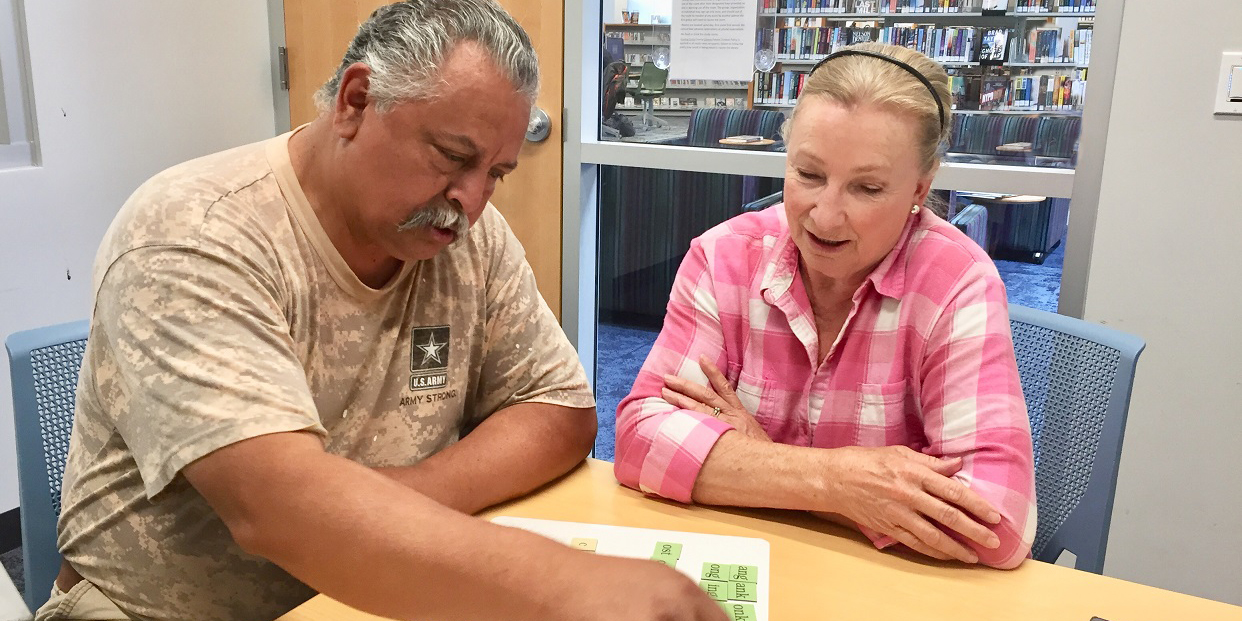 Who are PSC Tutors?
PSC tutors are:
21 years of age or older
comfortable with their own reading, writing, and spelling skills
willing to meet with a student for 90-minute lessons twice a week
able to complete required orientation and training
able to commit to volunteering for at least one year
Degrees or teaching experience are not necessary. Good tutors are empathetic, patient, able to give clear directions, and willing to learn new skills themselves. After completing tutor training, tutors are matched with a student and meet one-on-one with their student for 90 minutes, twice a week, at times and public places convenient to both, usually the local library.
Become a Tutor
First come to a tutor orientation session to learn about PSC's work, what to expect as a volunteer tutor, how to sign up for training, and other ways that you can support the program. After attending orientation, you may register for a required two-day tutor training class offered 3-4 times per year.
Dec 7th | 6:00pm - 7:00pm

Online Event

Dec 9th | 12:30pm - 1:30pm

Online Event

Jan 6th | 3:30pm - 4:30pm

Online Event
What is FFL?
PSC's Families for Literacy (FFL) program is for PSC learners who have children or grandchildren from birth through school age. The program is designed to help adults develop the skills and confidence to be involved in children's literacy development.
Program Goals
Introduce families to the joy and value of reading
Acquaint families with high quality children's literature
Establish home libraries with our birthday book give-a-way
Equip parents with the skills to prepare their children for reading
Build self-esteem
Create library users
WANT THE LATEST FROM PSC?
PSC, Inc. is a 501(c)3 nonprofit fundraising and advocacy board whose mission is to develop financial resources and promote public awareness to support the free adult reading program of Project Second Chance. The revenue raised by PSC, Inc. supports the operations of Project Second Chance. The members of PSC, Inc. serve as advocates for Project Second Chance and adult literacy in the Contra Costa County community.
Ways to Support PSC, Inc.
Donate Your Money
This is the easiest donation of all, with these options:
– Mail a check to PSC, Inc., 2151 Salvio St., Ste. 299, Concord, CA 94520
– Use your credit card at the PSC, Inc. blog at PSC Fundraising.
– PSC, Inc. also accepts donations through employer matching programs and charitable giving campaigns.
Donate Your Time
There are currently openings on the PSC, Inc. Board, so please let us know if you would like to join. Meetings are from 6 – 8 p.m. on the second Monday of each month..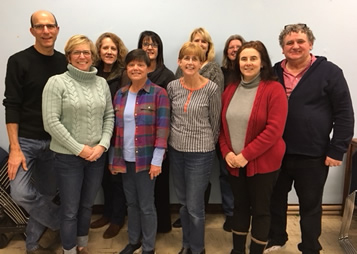 Project Second Chance, Inc. Board Members
Thank you to PSC, Inc.'s dedicated board members, who volunteer countless hours to raise funds and advocate in support of Project Second Chance. Board members include: Elizabeth Bognar (Secretary); Lori DePole (Treasurer); Stephanie Ghisletta; Celia Lawson (President); Jon Elam; and Susan Yahn.

SUPPORT PROJECT SECOND CHANCE