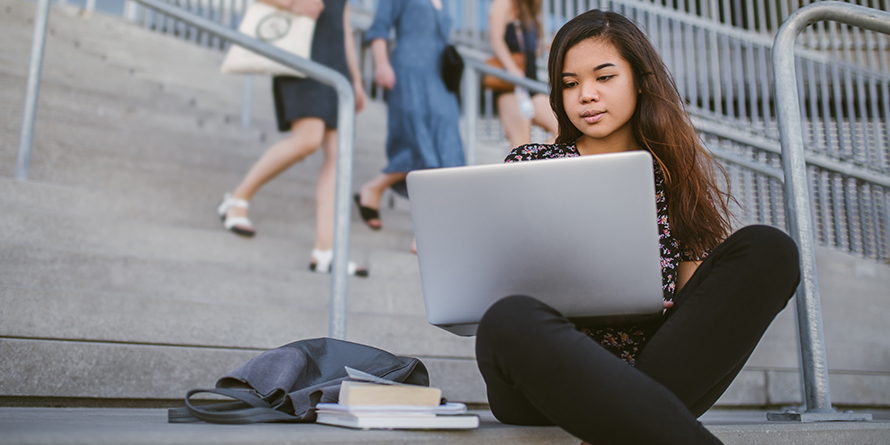 We make it easy to get online with our Wi-Fi Hotspot Kits. If you have a Library card, you can check out a hotspot for free and use it to connect your tablet, laptop or other Wi-Fi enabled device. You can borrow a hotspot for 21 days.
Free wireless internet access is available in all library buildings. Free Wi-Fi internet access at some locations can also be accessed from the parking lot or other outside areas.
Wi-Fi Hotspot FAQs
Contra Costa County Library Wi-Fi hotspot kits give you portable wireless internet access, Wi-Fi calling, and texting as allowed by your mobile service provider. Just turn it on and you're ready to connect up to 10 devices to one hotspot. You can use tablets, laptops, or smartphones to do research online, shop at your favorite website, download movies, and more.

The hotspot lets you access the internet in all 50 states with unlimited data. Service is limited to areas with T-Mobile network coverage and signal strength may vary by location.

These kits do require an electrical connection in order to charge the device. Once charged, the hotspots can used without the charger/adapter.

Please note that online content accessed with the hotspot is not filtered and parents are responsible for monitoring their children's internet use.

Anyone who has a Contra Costa County Library card can borrow a Wi-Fi hotspot kit at no charge. Wi-Fi hotspots are displayed in the Library catalog and may be requested by placing a hold, visiting a community library service desk, or contacting Library staff for assistance.

You can check out one Wi-Fi hotspot kit at a time for a three week loan period. You get free wireless internet access with the hotspot during that time.

If you don't have a Library card, you can apply for one here.

Wi-Fi hotspot kits may be renewed twice. If another Library user has placed a hold on the item and there are no other available kits, then it cannot be renewed.

Wi-Fi hotspot kits may be returned in Library book drops or directly to community library staff. Staff will check the contents to verify that all parts are present before the hotspot kit is cleared from your account.

If a Wi-Fi hotspot is four or more days overdue, it is deactivated. Information about fees and charges for lost, damaged, or missing kit parts is available here. If the hotspot is missing or damaged, your account will be billed for the full cost of the kit plus a $10 processing fee.

T9 Franklin: Activate the screen by pressing the power button quickly. Press and hold down the power button until the display screen reads "GOODBYE" to turn it off. 

CoolPad: Press the Power button on the mobile hotspot until all four indicators momentarily flash blue. When all four buttons go dark, the Network and Wi-Fi connections have been disabled.
T9 Franklin hotspot instructions
T9 Franklin hotspot instructions
Wi-Fi in the Library FAQs
Free Wi-Fi is available at all Library locations during open hours. Any device capable of connecting to Wi-Fi can connect to this network: PCs, Macs, smart phones, tablets, etc.

Please see the Connecting to the Wireless Network instructions (PDF) for step-by-step directions for your laptop.

Free Wi-Fi at some locations can also be accessed from the parking lot or other outside areas. Distance and strength may vary from location to location

Yes, as long as your Mac has the appropriate hardware: 802.11(b, g) enabled wireless device, also called "Airport."

Please note that logging onto the Library wireless network may not be supported by your version of the Safari browser. If you can connect to the wireless network but cannot bring up the user agreement page in Safari, try another browser such as Firefox or Chrome to accept the user agreement. Once the terms are accepted, you can use the browser of your choice.

Please see the Mac OS instructions on Connecting to the Wireless Network (PDF) for step-by-step directions.

Please visit the library's computer page at: https://ccclib.org/computer/ to see the current listing of libraries who offer laptop lending and for more information.